eyes never sleep
is pleased to announce the inaugural exhibition in medias res. Featuring the work of Bradley Biancardi, Noel de Lesseps, Alissa McKendrick, Margaux Valengin, and Bradley Ward, the exhibition follows their exploration of the human figure through disjunctive scenes and opaque narratives of fantasy and fable.
Drawing upon and disrupting established art historical tropes—from the opulent tumult of Renaissance tableaux to the measured and distant coolness of Surrealism—these artists bring a sense of tension into otherwise familiar imagery. Disorienting but spirited, the works presented in in medias res leave viewers right here, in the midst of things, with courage in lieu of a compass.
Bradley Biancardi
explores the inherent clumsiness of the human body in space while testifying to the grace of human character. Informed by his years studying Renaissance and Modern paintings and punctuated by leitmotifs of tools, socks, dead phones, and other contemporary paraphernalia, his layered compositions and the figures within them remain aloof, resting uneasily in an entanglement of limbs and looks that never quite connect.
Writer Julie Moon traces this thread of detachment between Biancardi's figures—noting, "each figure's alienation is punctuated by the absence of eye contact… even in portraits seemingly about intimacy, no one's gaze meets another's"—while at the same time noticing an intimacy implicit to and beckoning from each painting. On a studio visit with the artist and eyes never sleep, Moon writes, "I felt the three of us were in a universe parallel to theirs, gathered by chance into an honest kaleidoscope. What worlds do we want to make and are we making?"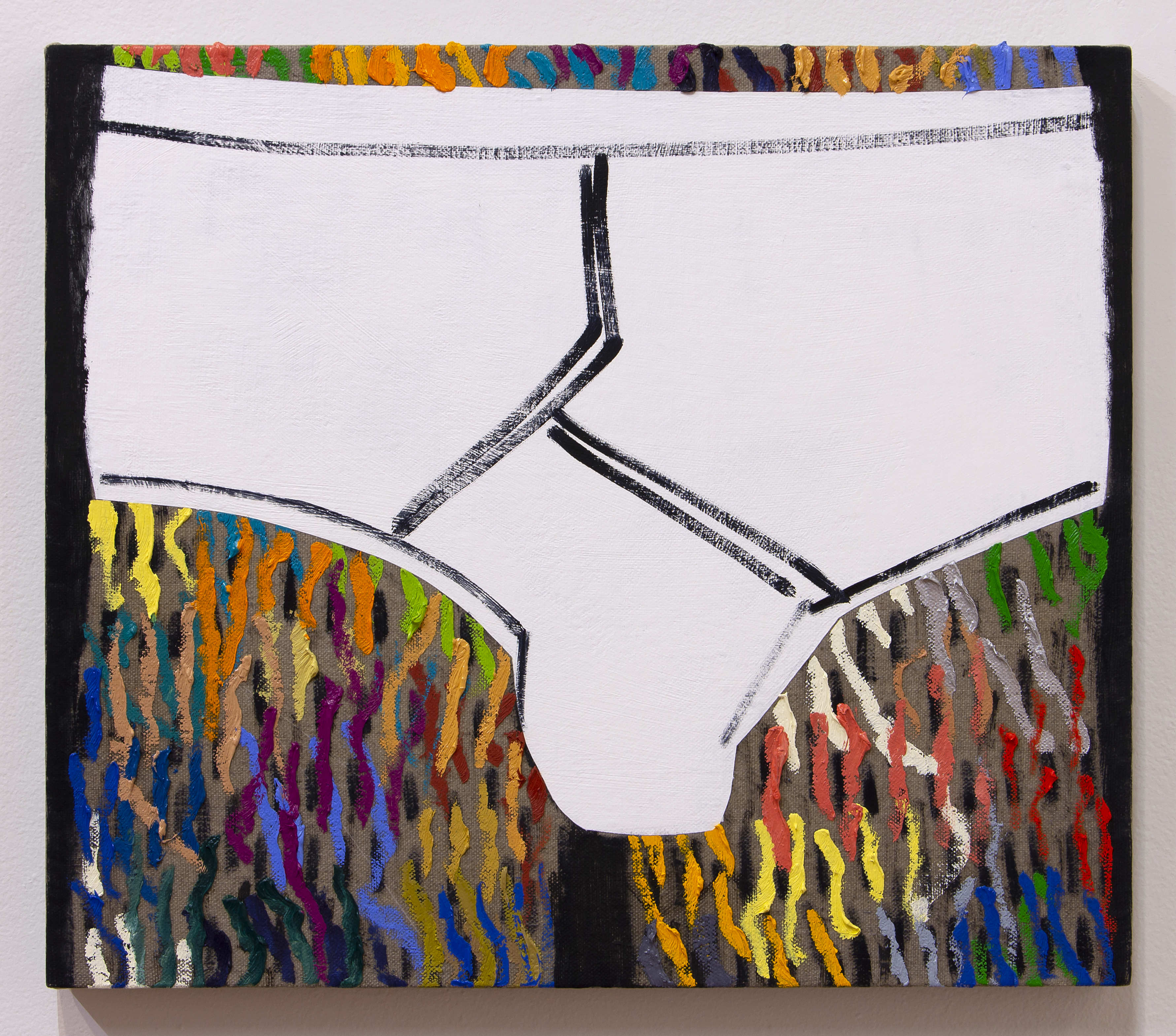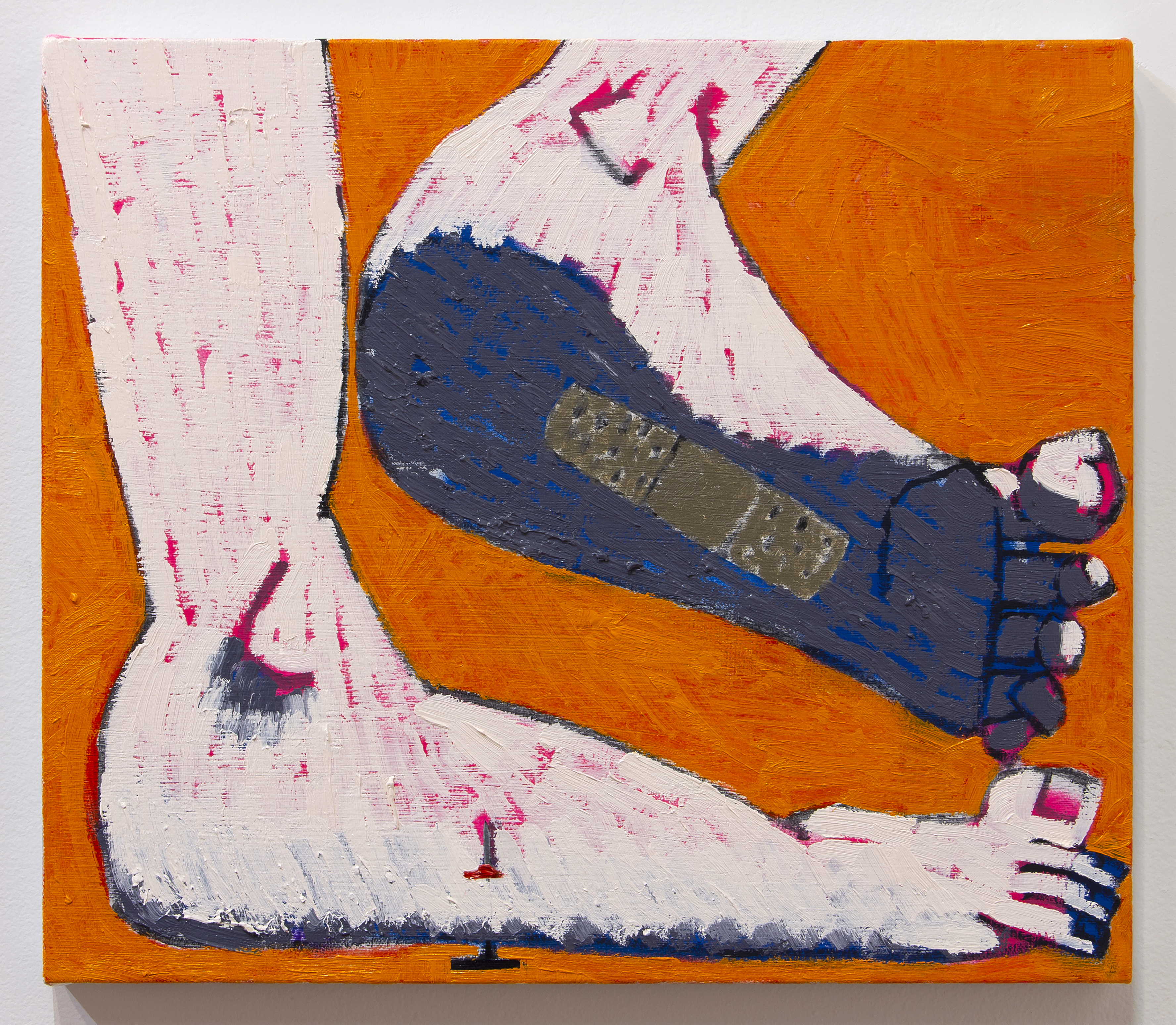 Noel de Lesseps
presents compositions and characters that evade any coherent sense of time and place. Appearing at times celestial and at others underworldly, his scenes orbit around a central planet, a polestar hovering, trembling above the unsettled horizon. "In [de Lesseps's] works like
Penultimate
," curator and art historian Megan Kincaid observes, "signs are made fugitive by sheer force. Threads of narrative spool across the surface; what is cut off in one scene might be tied together in another or abandoned altogether. Ultimately, the prevailing sentiment is one of narrative instability."
Kincaid writes, "de Lesseps's breach of linear storytelling is intensified by his phantom-like figures, cast in a grisaille palette and rendered translucent by scraping paint. In this way, theartist activates what Jacques Derrida called the hauntology—the lurking persistence andintrusion of memories past. The multiple registers of time that coexist through the relative agedness of symbols finds its coeval in the artist's infidelity to a single temporality. Some figures appear like specters in a dream, others as real as our fingers and toes."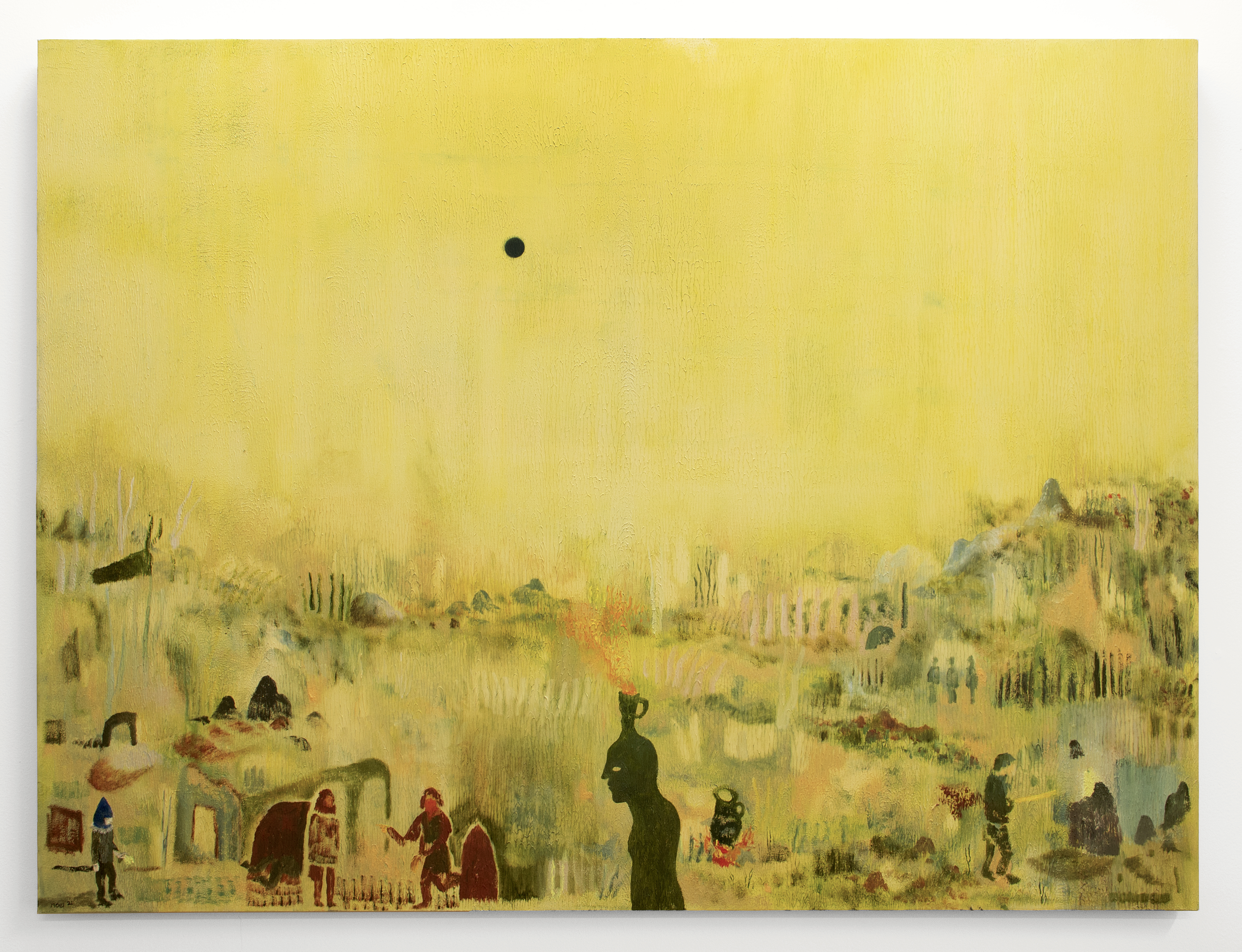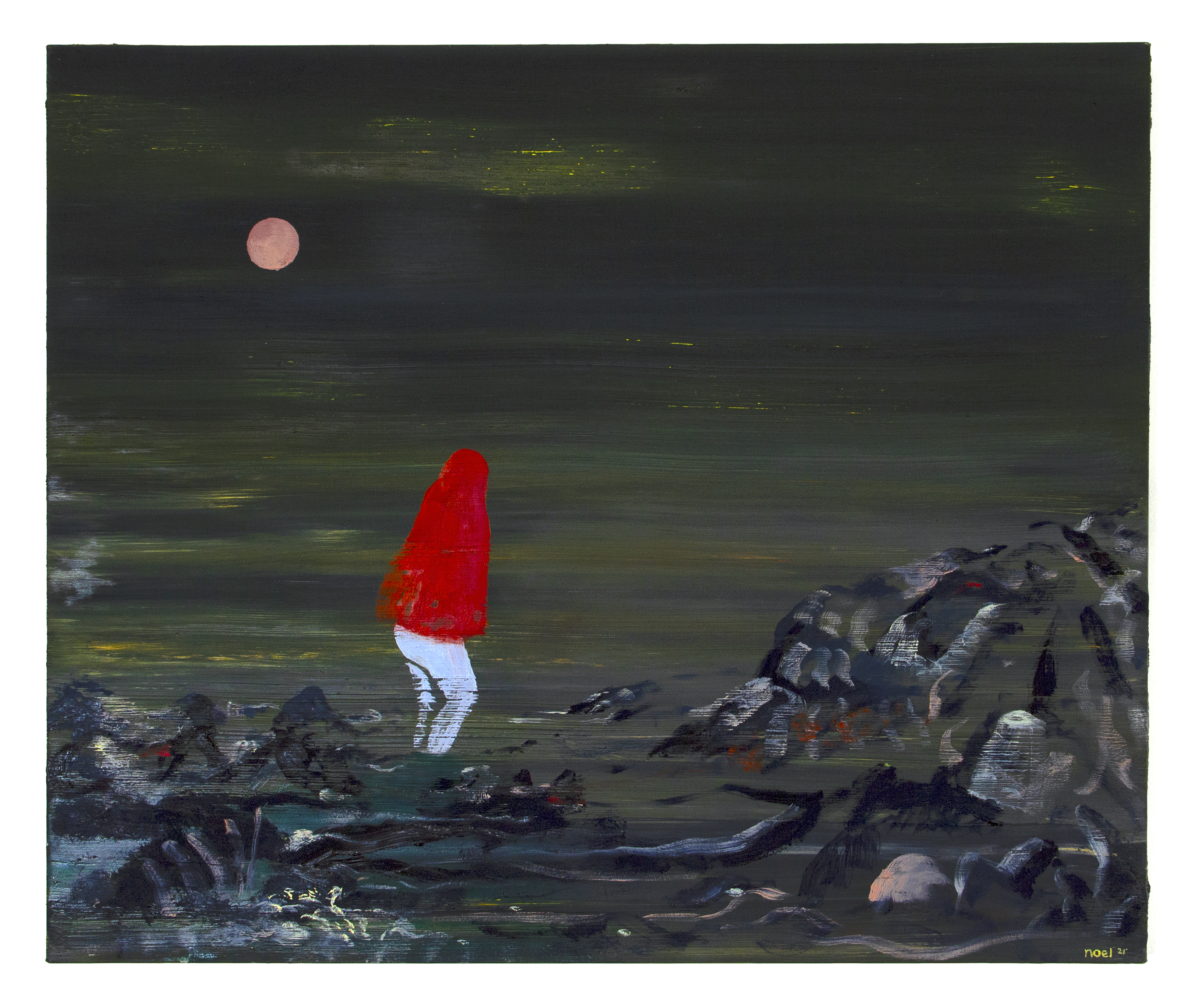 Alissa McKendrick
's paintings follow her impish protagonists through wispy scenes of delicately suggested landscapes. Drawing from sources as disparate as the sketches of Roald Dahl's illustrator Quentin Saxby Blake and the paintings of Florine Stettheimer and Milton Avery, McKendrick creates scenes that might feel at first like reveries of childhood folklore, yet are entirely new and far from immediately legible.
The artist's compositions delight in their denial of a fuller narrative, presenting instead glimpses of fantastical and open-ended escapades. In Untitled, 2020, a kneeling figure strums her guitar while dragons with matching eyes gleaming red circle above in a swirling backdrop of bright pink and green. As critic Barry Schwabsky writes in the Artforum review of her 2019 solo exhibition
Resentment
at Team Gallery, "Maybe it's the evasion of category that's most striking here: McKendrick's paintings cast their intangible spell by inflaming the viewer's desire for an explanatory reading, only to casually deny it."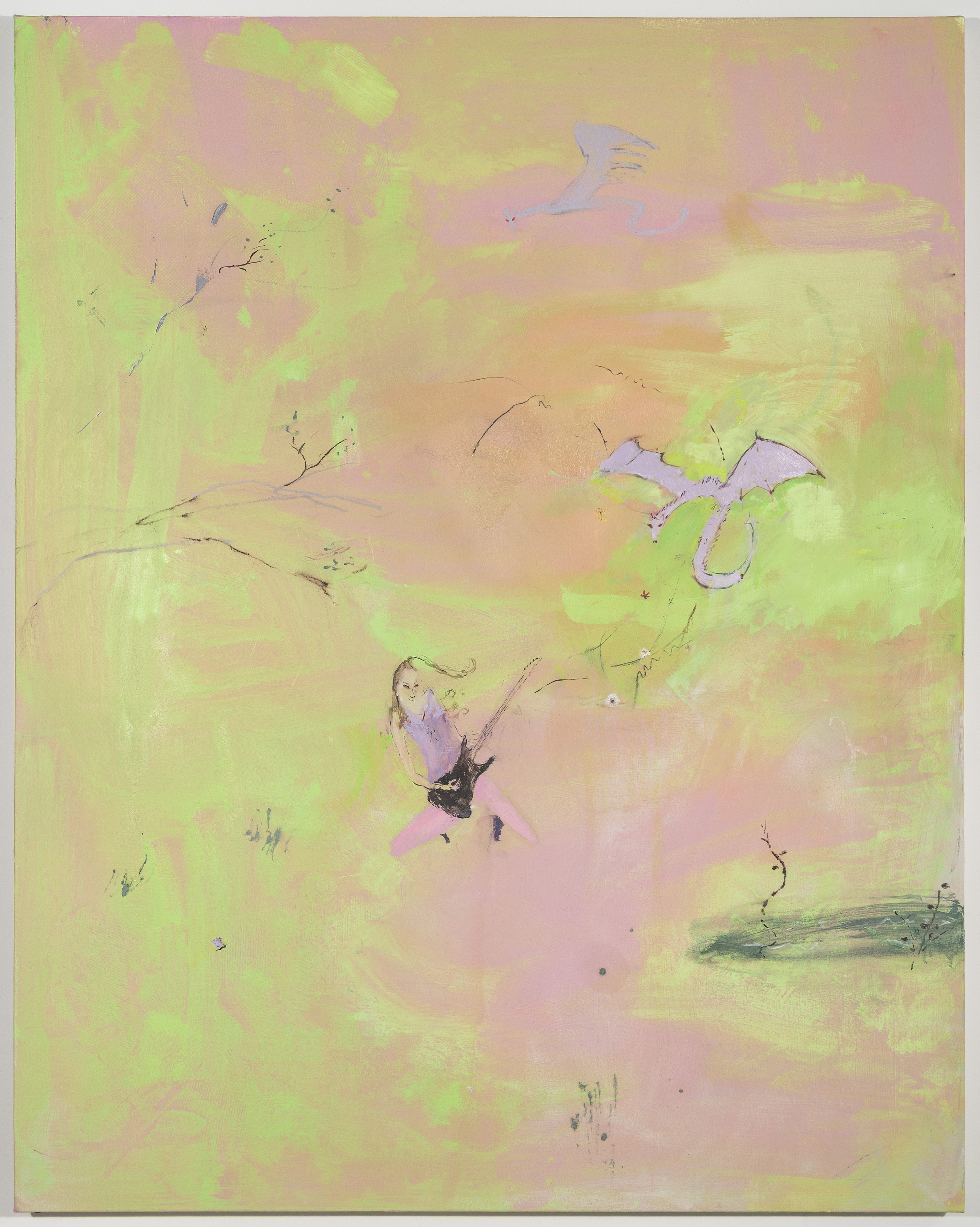 Margaux Valengin
mines the psychology of Surrealism, the body, medicine, and the allure of images. Deeply aware of historical painters, especially female Surrealists like Leonora Carrington and Remedios Varo, Valengin combs through archives of symbols and reimagines them in fluid concert, bleeding together despite their dissonance. Her paintings reckon with how gendered concepts of irrationality and hysteria have been assessed and controlled over the centuries, staking themselves firmly in opposition to the dominant orders of civil rationale and bureaucratic structure.
On Infernal Power, art historian and critic Tai Mitsuji writes, "Valengin traffics in an economy of recognisable symbols that, under her surrealistic hand, become estranged from their previous meaning and semiotic stability… Valengin's work turns upon this factual-fiction, and the coherence of its own internal pictorial logic. To wit, its ability to present an impossible scene and garb it in the trappings of the possible. It is something akin to flying in a dream, while you still have to negotiate the forces of gravity."
Bradley Ward
studies the body in moments between performing uncertain labor and seeking unattainable leisure. A resolved draftsman, Ward explores in his drawings, collages, and tapestries the Black body caught around moments of exertion. Often sourcing historical imagery as the basis for his works, Ward's compositions vibrate between a wistful collective nostalgia and a critical self-sufficiency.
As Ward defines it, "I've been trying to understand the in between of what is asked of and depicted of Black bodies. We are always tied to labor or exaggerated leisure/laziness… But what I recently realized is that the truest and purest form of our experience is in fact the area in between. The transitional time from labor into leisure and vice versa. That time in between where you may be huddled up with your first little league team and you make these connections. You learn these motor skills interacting with your peers. Our experiences overlap like Venn diagrams and it's the safety in our joy and laughter and our limbs supporting each other as we recharge before having to once again go back out into that world."