Gregory Klassen

Care and Maintenance of the Intermediate Block

Presented with Max Lawton
at eyes never sleep
Opening 5 - 8 pm Saturday, October 1
rsvp@eyesneversleep.com
October 1 - November 13, 2022
Visit by appointment

Gregory Klassen, Lenin Room, 2020. Courtesy the artist. Image: Patrick Grandaw.


Gregory Klassen
Care and Maintenance of the Intermediate Block
Presented with Max Lawton at eyes never sleep
Opening 5 - 8 pm Saturday, October 1
rsvp@eyesneversleep.com
October 1 - November 13, 2022
Visit by appointment
Care and Maintenance of the Intermediate Block
presents a suite of drawings in charcoal and pastel by artist Gregory Klassen. Created in response to and as illustrations for writer Vladimir Sorokin's book
Their Four Hearts
(translated by Max Lawton), the body of work envisions a world in parallel to Sorokin's words, which tell of four characters' lives unfolding violently as the fallacies of the Soviet Union unravel around them.
Presenting dozens of drawings by Klassen—from single page portraits torn from a spiral sketchbook to large-scale scenes on multiple sheets of paper, and including both drawings from the three dozen published in the book alongside more from the nearly 200 in the series —the exhibition pans across a literary and historical timeline of civil and ethical decay. "His illustrations," Lawton writes, "allow the reader to pretend they are entering into a storybook-world instead of the aberrant flesh-libido of the Soviet system."
Radiating the dark angst and violent whims at the crumbling of the Soviet Union, Klassen's mark-making builds up the frenetic ethos of Sorokin's story of structural decomposition without autocratic artifice. Conceptually, historically, and visually, Klassen's drawings exist in orbit with the works of artists who served as soldier-witness to and searing critic of collapsing empires, including Otto Dix, George Grosz, and Max Beckmann from Weimar Germany, but also Alfred Kubin and his nightmarish scenes of state authority and human depravity in Austria-Hungary at the turn of the twentieth century. Klassen, reckoning with the heaviest socio-political implosion at the turn of the twenty-first, similarly focuses his eye on the degeneracy of anti-humanist society in which any person's fate is a roll of the dice.
Lawton deciphers the drawings with a fitting alchemy of sacerdotal terms and sacrilege: "Greg's drawings are the rosary beads of Sorokin's world, as they represent the power and beauty of art in even the most wretched corners of human history (and are any of its corners not wretched?!). In that sense, as an artist, Greg is the only one of the novel's hearts to remain as such––to not have become a die as the other four do at novel's end."
Visualizing all of the objects, all the places, all the people, Klassen's drawings for
Their Four Hearts
renders a kaleidoscopic encyclopedia of images that make the story visible without abridgment, facing every page and the painful, ecstatic nihilism exposed therein.
HELL MARCH
March 6 - May 1, 2022
By Appointment
Viktor Timofeev, Twodom (still from self-playing computer game), 2018-22. Courtesy the artist.

HELL MARCH

Chris Dorland
Essa Grayeb
Exene Karros
Jean-Marie Simon
Viktor Timofeev
Matt Town
eyes never sleep
March 6 - May 1, 2022 (extended)
Opening reception 5 - 8 pm Sunday, March 6
Hell March centers on the sublimation of conflict into civilian life.
Pursuing an idea of visual brinkmanship and belligerence that permeates everything from mortal materials to ubiquitous icons and antagonistic algorithms, the exhibition finds its footing in the theories of Harun Farocki, Hito Steyerl, and Paul Virilio and presents the works of six artists wrestling with cultures of violence and structures of media.
Presented in the exhibition are paintings reckoning with order and disorder in both digital and analog realms by Exene Karros, Chris Dorland, and Viktor Timofeev, whose two channel self-playing computer game
Twodom
is also on view. Essa Grayeb's film
The Return of Osiris
and photographic contact prints made from television screen exposures reconstruct the public memory of former Egyptian President Gamal Abdel Nasser and his resignation address following the 1967 Six-Day War.
Matt Town's
Depressions
sculptures—vacant gun cases hand-made in walnut and velvet from tracings of gun collections known to the artist—are exhibited along with the artist's film
MISSING GUN (found)
. Photographer Jean-Marie Simon's images from the Guatemalan Civil War of soldiers, rebels, and the public living between them explore both individual and collective traumas when the borders of warfare are unwound.
In concert, the works within Hell March consider the unavoidable spectacle of combat.
Press Release
Cooper Campbell, with assistance from Firebird Bronze Foundry, Portland OR. Surmoulage, 1897, 1965-1975 (approx), 2020. After Auguste Rodin with Rudier Foundry, Sculptures LTD. Bronze. 12 x 6 x 8 inches. Photo: Andrew Jarman.
Presented as both an exhibition of artworks and as a book that compiles original writing and archival images,
Instruments
represents Cooper Campbell's research into the practice of valuation. In tandem with the release of the book, the exhibition takes place at eyes never sleep, an apartment exhibition space on the Upper East Side of Manhattan founded by Colin Ross, an associate director at a gallery on Madison Avenue. The decision to situate
Instruments
in an art dealer's home was an intentional one; Campbell has embedded these works within Ross's domestic space to invoke an appraisal of the art industry's participants themselves.
The title
Instruments
is derived from the term's financial definition: monetary contracts between parties that can be created, traded, modified, and settled. Campbell's interests in the monetization of art have urged him to examine the art market's role in the accumulation of wealth. An analogy to alchemy is present in Campbell's research—what is the definition of value, and how does one issue, institutionalize, or otherwise invent value from raw material alone?
Within the contemporary art world, creating a limited edition of a replicable art object is a widely accepted practice. The sales structure of nineteenth-century French Modernist Auguste Rodin's artworks set a legal, financial, and cultural model for dispersing the concept of an original work of art, a precedent that remains a fundamental component to today's art industry. After Rodin's death in 1917, the French government inherited his intellectual property rights, formed Musée Rodin as a governing body of his estate, and began to posthumously produce Rodin's sculptures in editions of twelve. By implementing traditional casting and scaling methods to replicate the same object in multiples, it became possible to profit numerous times from the sale of what was, in essence, the same artwork. Mid-century financiers were particularly passionate about collecting Rodin's works, and Campbell's essay illuminates unmistakable parallels between Rodin's market structure and the world of securities trading. In tracing this contour, Campbell finds both markets to be realms impacted, commingled, and determined behind the scenes by the influence of singular individuals and private third parties.
To illustrate the phenomenon of valuation, Campbell has rendered disparate financial devices as his own artworks. Collectively these instruments question the systems of value creation, and the blurriness surrounding originality. Multiple systems are considered: spot prices (the constantly shifting values of copper, nickel, and tin on the commodities market); numismatic value (a coin collector's valuations based on a coin's rarity and historical importance); contractual value (a consignment, an IOU, a promise); novel value (an original versus an edition versus a copy); and retail value (the number on a price tag), amongst others. His interrogations of these orders of value take the form of material interventions, such as a nineteenth-century ormolu vase displaying a bouquet with gentian (a French flower used as a barometer for bitterness); and a surmoulage (an unauthorized cast of an original authorized casting) of Rodin's
Definitive Study for the Head of Balzac
, 1897 with the casting sprues still attached to the work.
Both in concert and in conflict, the objects within Instruments gesture to cracks and circularities within the logic of value.
-Octagon + eyes never sleep
in medias res
july 9 - august 8, 2021
new york, ny 10021
opening friday, july 9, 6 - 9 pm


visit@eyesneversleep.com
eyes never sleep
is pleased to announce the inaugural exhibition in medias res. Featuring the work of Bradley Biancardi, Noel de Lesseps, Alissa McKendrick, Margaux Valengin, and Bradley Ward, the exhibition follows their exploration of the human figure through disjunctive scenes and opaque narratives of fantasy and fable.
Drawing upon and disrupting established art historical tropes—from the opulent tumult of Renaissance tableaux to the measured and distant coolness of Surrealism—these artists bring a sense of tension into otherwise familiar imagery. Disorienting but spirited, the works presented in in medias res leave viewers right here, in the midst of things, with courage in lieu of a compass.
Bradley Biancardi
explores the inherent clumsiness of the human body in space while testifying to the grace of human character. Informed by his years studying Renaissance and Modern paintings and punctuated by leitmotifs of tools, socks, dead phones, and other contemporary paraphernalia, his layered compositions and the figures within them remain aloof, resting uneasily in an entanglement of limbs and looks that never quite connect.
Writer Julie Moon traces this thread of detachment between Biancardi's figures—noting, "each figure's alienation is punctuated by the absence of eye contact… even in portraits seemingly about intimacy, no one's gaze meets another's"—while at the same time noticing an intimacy implicit to and beckoning from each painting. On a studio visit with the artist and eyes never sleep, Moon writes, "I felt the three of us were in a universe parallel to theirs, gathered by chance into an honest kaleidoscope. What worlds do we want to make and are we making?"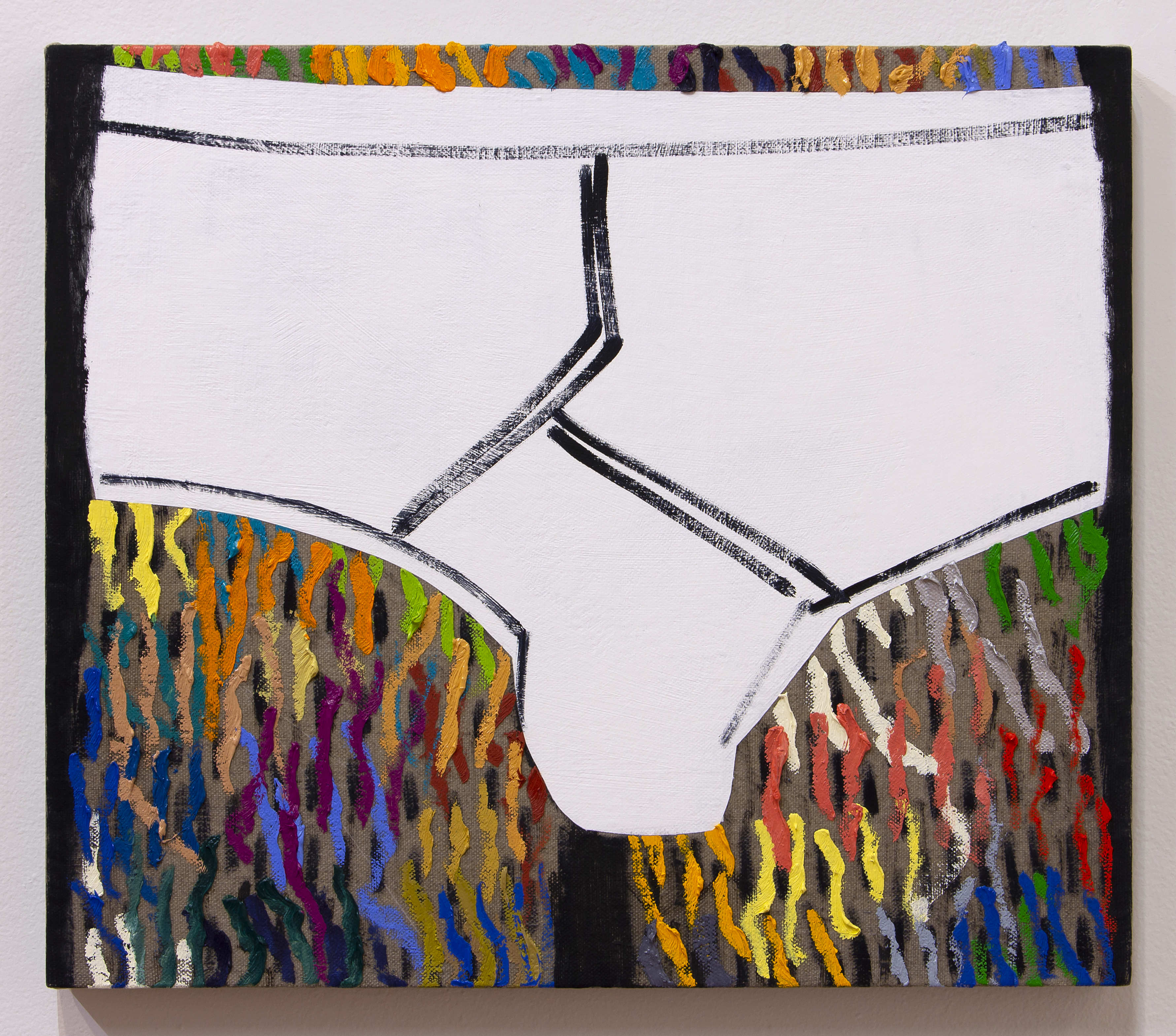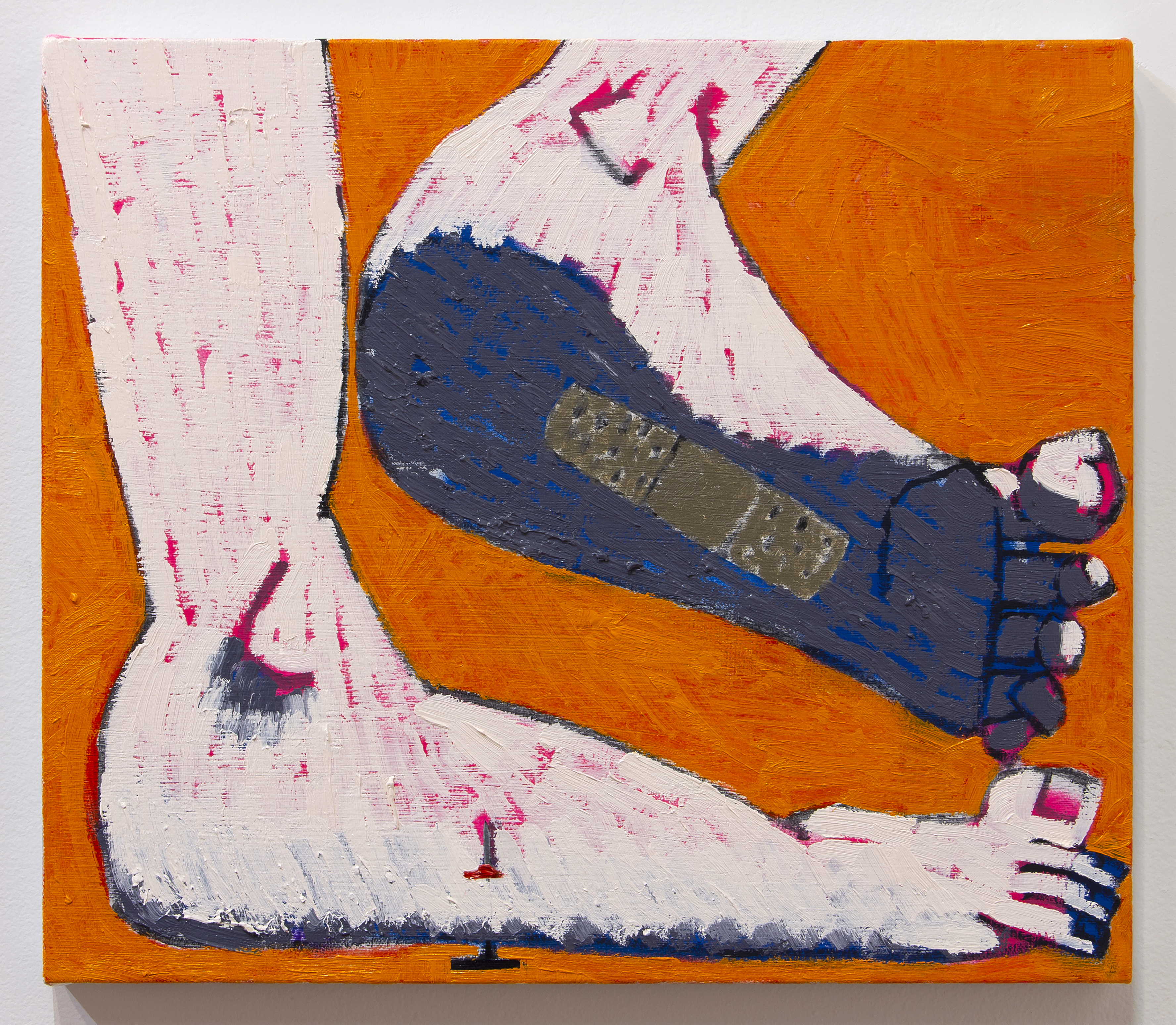 Noel de Lesseps
presents compositions and characters that evade any coherent sense of time and place. Appearing at times celestial and at others underworldly, his scenes orbit around a central planet, a polestar hovering, trembling above the unsettled horizon. "In [de Lesseps's] works like
Penultimate
," curator and art historian Megan Kincaid observes, "signs are made fugitive by sheer force. Threads of narrative spool across the surface; what is cut off in one scene might be tied together in another or abandoned altogether. Ultimately, the prevailing sentiment is one of narrative instability."
Kincaid writes, "de Lesseps's breach of linear storytelling is intensified by his phantom-like figures, cast in a grisaille palette and rendered translucent by scraping paint. In this way, theartist activates what Jacques Derrida called the hauntology—the lurking persistence andintrusion of memories past. The multiple registers of time that coexist through the relative agedness of symbols finds its coeval in the artist's infidelity to a single temporality. Some figures appear like specters in a dream, others as real as our fingers and toes."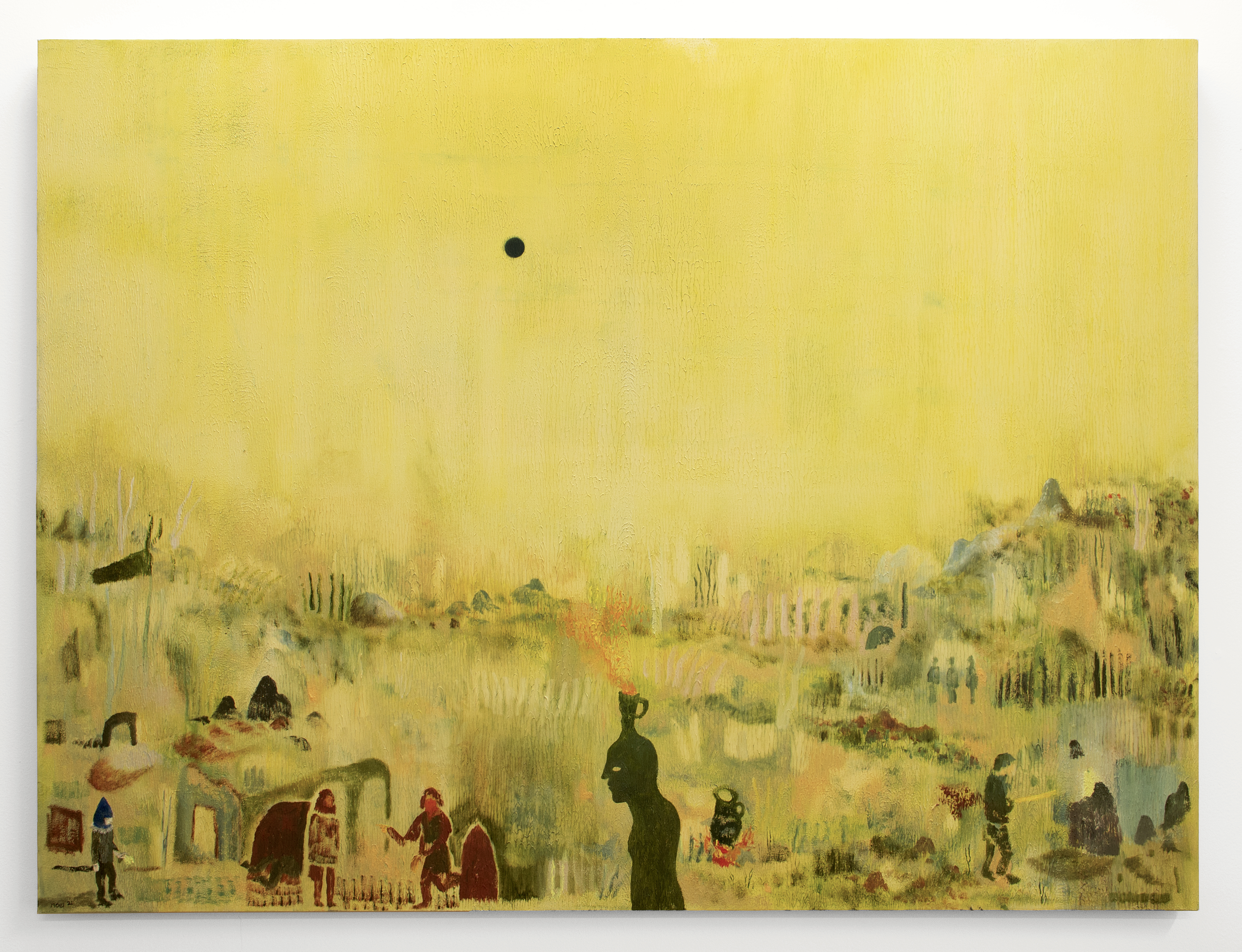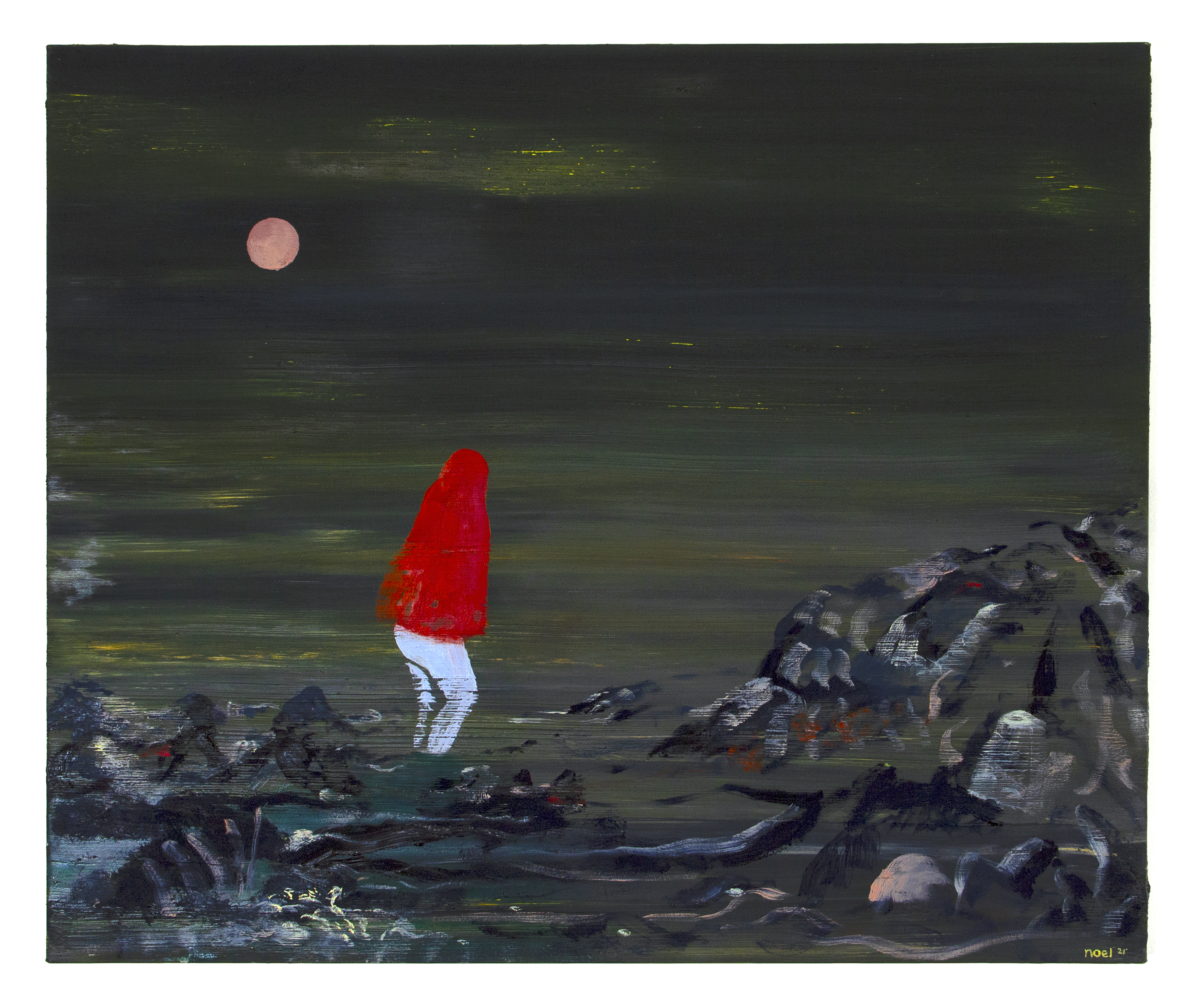 Alissa McKendrick
's paintings follow her impish protagonists through wispy scenes of delicately suggested landscapes. Drawing from sources as disparate as the sketches of Roald Dahl's illustrator Quentin Saxby Blake and the paintings of Florine Stettheimer and Milton Avery, McKendrick creates scenes that might feel at first like reveries of childhood folklore, yet are entirely new and far from immediately legible.
The artist's compositions delight in their denial of a fuller narrative, presenting instead glimpses of fantastical and open-ended escapades. In Untitled, 2020, a kneeling figure strums her guitar while dragons with matching eyes gleaming red circle above in a swirling backdrop of bright pink and green. As critic Barry Schwabsky writes in the Artforum review of her 2019 solo exhibition
Resentment
at Team Gallery, "Maybe it's the evasion of category that's most striking here: McKendrick's paintings cast their intangible spell by inflaming the viewer's desire for an explanatory reading, only to casually deny it."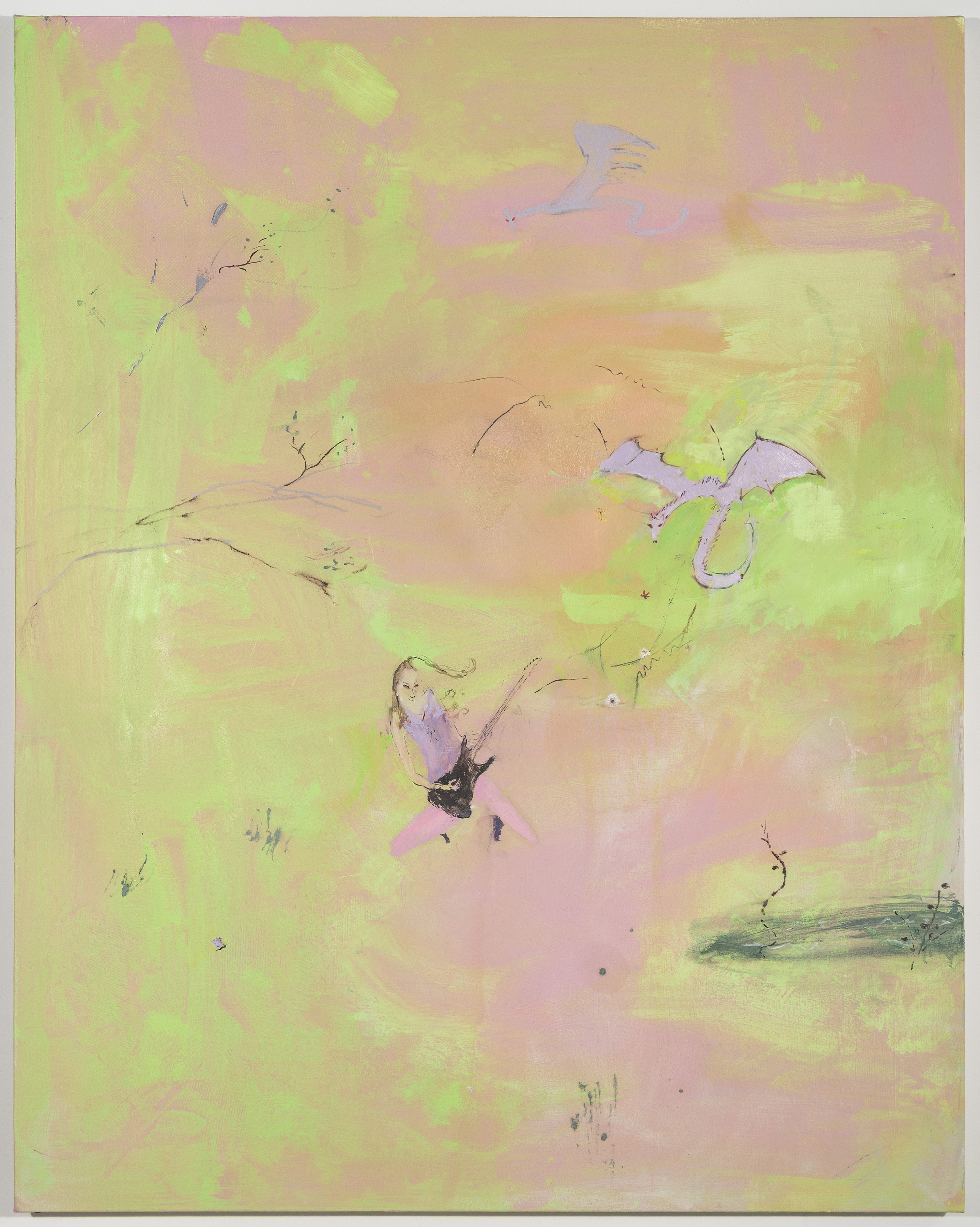 Margaux Valengin
mines the psychology of Surrealism, the body, medicine, and the allure of images. Deeply aware of historical painters, especially female Surrealists like Leonora Carrington and Remedios Varo, Valengin combs through archives of symbols and reimagines them in fluid concert, bleeding together despite their dissonance. Her paintings reckon with how gendered concepts of irrationality and hysteria have been assessed and controlled over the centuries, staking themselves firmly in opposition to the dominant orders of civil rationale and bureaucratic structure.
On Infernal Power, art historian and critic Tai Mitsuji writes, "Valengin traffics in an economy of recognisable symbols that, under her surrealistic hand, become estranged from their previous meaning and semiotic stability… Valengin's work turns upon this factual-fiction, and the coherence of its own internal pictorial logic. To wit, its ability to present an impossible scene and garb it in the trappings of the possible. It is something akin to flying in a dream, while you still have to negotiate the forces of gravity."
Bradley Ward
studies the body in moments between performing uncertain labor and seeking unattainable leisure. A resolved draftsman, Ward explores in his drawings, collages, and tapestries the Black body caught around moments of exertion. Often sourcing historical imagery as the basis for his works, Ward's compositions vibrate between a wistful collective nostalgia and a critical self-sufficiency.
As Ward defines it, "I've been trying to understand the in between of what is asked of and depicted of Black bodies. We are always tied to labor or exaggerated leisure/laziness… But what I recently realized is that the truest and purest form of our experience is in fact the area in between. The transitional time from labor into leisure and vice versa. That time in between where you may be huddled up with your first little league team and you make these connections. You learn these motor skills interacting with your peers. Our experiences overlap like Venn diagrams and it's the safety in our joy and laughter and our limbs supporting each other as we recharge before having to once again go back out into that world."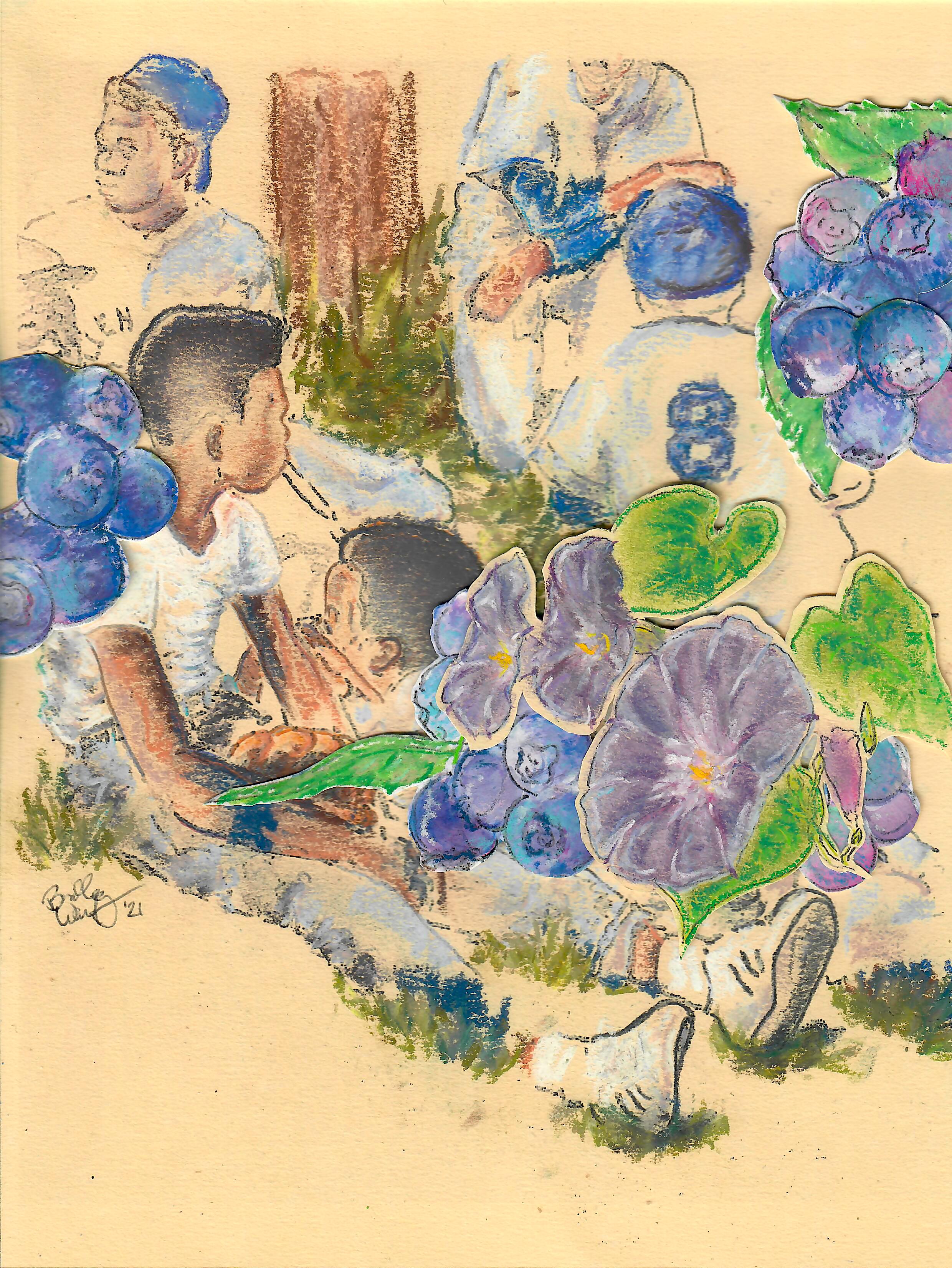 eyes never sleep

A research-based exhibition space centered around curatorial collaboration and editorial initiatives, eyes never sleep pursues visual culture across artistic mediums and historical moments.

As its emblem, eyes never sleep draws on the form of the dog in Josef Koudelka's 1987 photograph from Parc de Sceaux. A former political refugee who for years remained stateless and even avoided the risk of attaching his name to his photographs, Koudelka established a singular practice of observing and recording the omnipresent chaos and resilience of life between and beyond borders.

Looking to Koudelka and many other visual, historical, and curatorial influences, eyes never sleep seeks to bear witness.





josef koudelka,
parc de sceaux, hauts-de-seine
, 1987 © josef koudelka | magnum photos